Terry pack guitars are beautiful handmade
acoustic guitars
made in Vietnam. The guitars are derived from the finest solid Indian Rosewood and include; a cutaway parlour, a solid spruce top, a mahogany one piece neck and an Ebony fingerboard and bridge. Terry Pack created the first handmade custom guitar in the 1970's named Pack Leaders. Roger Bucknall, the founder of Fylde Guitars assisted him with this new endeavor. In the 1980's, Terry was involved in distributing for International brands such as Rich, BC and Polytone. Terry's enduring passion for guitars lead him to produce Turner Guitars, a range of affordable acoustic guitars.
Over the years, Terry collected vintage guitars which displayed his love for guitars even more. He has over 45 years experience in the instrument industry and his company has become a well-known brand.
There are three types of
Terry Pack guitars
available; the small jumbo guitar (SJRS), the
small acoustic parlour guitar
(PLRS) and the orchestra size guitar (OMRC). Each guitar type has its own unique qualities. Nevertheless, these guitars are great quality and perfect for all die-hard guitar players!
We recognize it may be hard to find the perfect Terry guitar, so we have put together a handy guide to distinguish some of the differences between each of these guitar types. Our full range of Terry Pack and
PRS Electric guitars
are available on
www.nicheguitars.com
The Powerful SJRS Guitar (The Small Jumbo Guitar)
SJRS guitars are powerful devices and will provide you will fuller sound. The Padauck armrests fit comfortably on your arm and the Florentine cutaway provides assistance whilst you play. The necklines are slim line and sit perfectly in your hand. If you are looking for something a little more practical, then a SJRS guitar may be for you!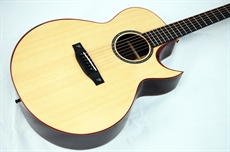 The Delusive PLRS Guitar (The Small Acoustic parlour guitar)

The name suggests this device is a smaller guitar in the range, you were right to think this! However, you shouldn't let the size fool you. These little gems will surprise you with the exceptional volume and bass.
PLRS guitars feature a Florentine cutaway, herringbone inlays and maple binding. They are ideal for experimenting and the compact size makes it perfect for traveling!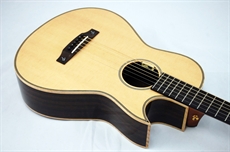 The Mysterious OMRC Guitar (The Orchestra Size Guitar)

The OMRC features a solid red cedar top with herringbone inlay and ivory binding. The wide mahogany necklines include a separate piece of wood for the heel. The bass and treble on these guitars is just right. The tone is exceptional for a guitar of this calibre and price. OMRC guitars are a pleasure to play and produce beautiful immense sounds.